Morse Taper #2.
Max. rpm: 5,000.
Max work piece load: 270 lbs.
Accuracy: 0.000197".

Designed for high speed lathe and CNC lathe to achieve high precision.

Shaft is made of alloy steel through heat treatment to Rc 60-62 to achieve high rigidity and durability.

Dust proof seal for long service life.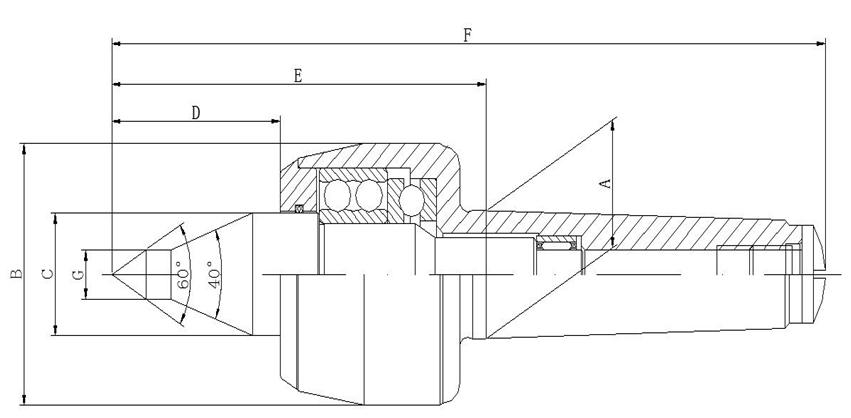 | Model | A | B | C | D | E | F | G | Max Load | Max Speed | Accuracy |
| --- | --- | --- | --- | --- | --- | --- | --- | --- | --- | --- |
| S06006 | inch | inch | inch | inch | inch | inch | inch | lbs | rpm | inch |
| MT2 | 0.70 | 1.85 | 0.94 | 1.61 | 3.58 | 6.10 | 0.31 | 270 | 5,000 | 0.000197 |
| MT3 | 0.94 | 2.32 | 1.02 | 1.79 | 4.13 | 7.32 | 0.39 | 660 | 4,000 | 0.000197 |
| MT4 | 1.23 | 2.52 | 1.18 | 2.01 | 4.49 | 8.52 | 0.47 | 1,100 | 3,500 | 0.000197 |
| MT5 | 1.75 | 3.07 | 1.50 | 2.42 | 5.35 | 10.47 | 0.59 | 2,200 | 2,500 | 0.000197 |
| MT6 | 2.49 | 4.17 | 2.13 | 4.13 | 7.76 | 14.92 | 0.79 | 2,650 | 2,000 | 0.000315 |
CNC Precision Long Spindle Live Center ZLC S06006-MT2
Model:

UPC:

S06006MT2