Morse Taper #6.
Max. rpm: 1,200.
Max work piece load: 12,000lbs.
Accuracy: 0.0003".
Designed for high speed lathe and CNC lathe to achieve high precision.
Shaft is made of alloy steel through heat treatment to Rc 60-62 to achieve high rigidity and durability.
Dust proof seal for long service life.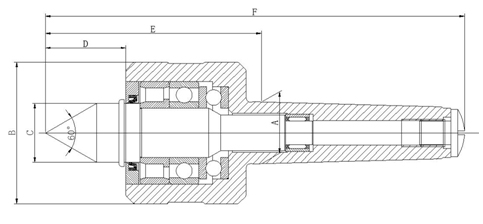 | Model | A | B | C | D | E | F | Max Load | Max Speed | Accuracy |
| --- | --- | --- | --- | --- | --- | --- | --- | --- | --- |
| 08011 | inch | inch | inch | inch | inch | inch | lbs | rpm | inch |
| MT6 | 2.50 | 5.20 | 2.52 | 3.11 | 7.20 | 14.37 | 12,000 | 1,200 | 0.0003 |
Precision Heavy Duty Live Center ZLC 08011-MT6
Model:

UPC:

08011MT6
Related Products